What kind of mischief can Steve and Riley get into to entertain themselves on a slow Tuesday closing shift at Pizza Bros? Find out here!
---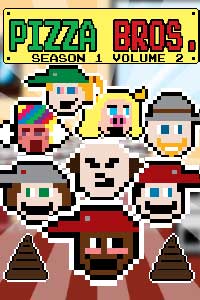 This Chapter is Part of Volume 2
---
Creator and Artist Notes:
Inspiration
Clo-pens are a real thing in the restaurant industry. And so are Opa-clo-pens! We have both done plenty of these excruciating double and triple shifts in our time in restaurants.
Difficulties
Throwing pixel art pepperoni's was a challenge to illustrate. I just figured it out by trial and error.
Comedy Writing and Pixel Art Coming Together
Steve and Riley being so excited to finally be done with work, but then accidentally falling asleep is so funny. Ed walking into work the next morning to find them still sleeping is even funnier.
Most Fun to Create
The most fun to illustrate was Steve and Riley entertaining themselves when they were bored. Specifically the masks and the box forts were fun to create.
---
Read More Pizza Bros Chapters