After Ed's failed health inspection, Brenda wants to bring the hammer down on the Chesterwood Pizza Bros store. The Founder offers her an opportunity she can't resist when she becomes Undercover Brendy.
---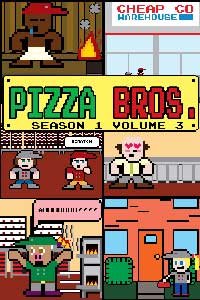 This Chapter is Part of Volume 3
---
Creator and Artist Notes:
Inspiration
There's almost always tug of war between front line employees and upper management in corporate restaurants, and there's no exception at Pizza Bros. That's the true inspiration for this Pizza Bros episode. What would happen if upper management (who has never actually worked IN a restaurant) was suddenly thrust into a restaurant employee position?
Difficulties
Illustrating Brendy's pixel art hair on fire, along with making sure that we were creating enough motion in certain segments were the most difficult to create this episode.
Comedy Writing and Pixel Art Coming Together
It's always funny when two different perspectives clash in a work comedy setting. The boss idealistically wants things done a certain way, but the employees doing the work get things done in a practical way.
Most Fun to Create
Brendy getting spit on and then subsequently quitting was the most fun to create using pixel art. It was also extremely funny to write. Customers aren't always right. Sometimes they are wrong AND are assholes about it. That's what makes great comedy.
---
Read More Pizza Bros Chapters