It's Ed's review day with his boss, Debbie. Corporate has decided that Online Reviews are an important part of discussing a manager's performance. Ed and Debbie go through every online review to find out where Ed could have done better.
---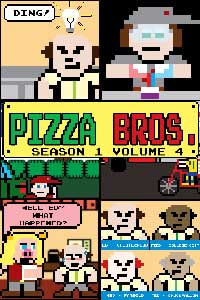 This Chapter is Part of Volume 4
---
Creator and Artist Notes:
Inspiration
With this being the first season of Pizza Bros, we wanted to do a recap episode in a funny way. So, we decided to give some additional perspective and insight into some of the situations that went wrong.
Difficulties
From a pixel art perspective, there were really no difficulties making this Pizza Bros episode. It was very straight forward with Ed and Debbie in the office. It was also easy to insert previously made pixel art scenes from other episodes as the flashbacks.
Comedy Writing and Pixel Art Coming Together
When we were writing this episode of Pizza Bros, we did not originally include the flashback scenes to previous pixel art episodes. So when we started illustrating this episode, we decided to include these scenes to not only give more context but to also help to visually break up the scenes as well.
Most Fun to Create
Writing and illustrating each of Debbie and Ed's reactions to the online reviews and responses was the most fun to create. Something that someone says or does may not be funny until someone else reacts to what is being said or done. That's what creates good solid comedy.
---
Read More Pizza Bros Chapters