A new rival pizza place opens in Chesterwood called: Bikini Pizza. The drivers at Pizza Bros start to feel effects.
---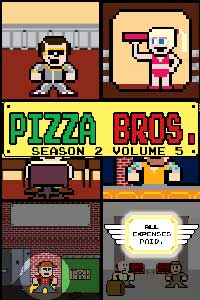 This Chapter is Part of Volume 5
---
Creator and Artist Notes:
Inspiration
The inspiration for this Pizza Bros story is the sudden rise of scantly clad girls serving food in the restaurant industry. People all of a sudden don't care if the food is good or not, as long as the girl isn't wearing clothes. We wanted to make fun of that because it's gross and dumb.
Difficulties
The most difficult part of illustrating this Pizza Bros episode was figuring out how to draw a pixel art girl in a bikini. The lines aren't straight or curved. They are flat and boxy. So portraying "sexy" in pixel art form was a challenge.
Comedy Writing and Pixel Art Coming Together
The funniest scene to write and create using pixel art was the farting contest. Jenny winning because it smelled so bad and all the commentary on it was honest and hilarious. -Jessie
Most Fun to Create
This whole Pizza Bros episode was fun to create, write, and illustrate. It was honest and funny commentary on today's culture. But as far and the pixel art was concerned, it was all pretty easy and straight forward to illustrate.
---
Read More Pizza Bros Chapters