Ed organizes a guys night out with three other Pizza Bros General Managers. Having to plan it months in advance… Tonight is the night that they're going to TEAR UP THE TOWN BOYEEEE!
---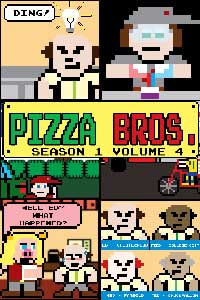 This Chapter is Part of Volume 4
---
Creator and Artist Notes:
Inspiration
This Pizza Bros episode is for all the overworked, underappreciated restaurant general managers. Pixel art imitates real life when general managers are constantly getting calls and getting called in on their days off. This really happens. Really.
Difficulties
Making a pixel art bar with all the specific bar sprites was the most difficult to illustrate for this Pizza Bros episode. There are a lot of minute details to think about when creating a bar scene.
Comedy Writing and Pixel Art Coming Together
So, in real life there's this stigma of working in fast food or delivery and it not being a "real" restaurant or a "real" job. We decided to explore this conversation that is a true point of conflict within the restaurant industry.
Most Fun to Create
The most fun to create and illustrate in this Pizza Bros episode was the introduction. Duplicating pixel art Ed into Fred, Ned, and Ted was hilarious. In real life, most general managers are veeerrrrrrry similar so we conveyed this idea with Ed, Fred, Ned, and Ted. A strange phenomenon, at least in our experience, is that all of the general managers working for a company tend to have a similar "look."
---
Read More Pizza Bros Chapters