Ed is forced to buy $200 worth of raffle tickets in the General Manager company raffle. Hilarity ensues.
---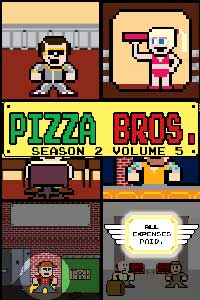 This Chapter is Part of Volume 5
---
Creator and Artist Notes:
Inspiration
The inspiration for this Pizza Bros episode was simply: What if Ed had the opportunity to get out of the poverty cycle? What would he do with the money? How would he act?
Difficulties
The most difficult part of creating this Pizza Bros episode was ensure that there was enough movement specifically from Debbie while she was driving and on the phone with Ed. We wanted to make sure to visually convey her emotions and reactions well.
Comedy Writing and Pixel Art Coming Together
Most Fun to Create
---
Read More Pizza Bros Chapters