What do you do when you get injured at work? You call the Anvil! Dennis gets bit by an untamed dog while on a delivery. When he returns to the store to tell Ed what happened, he doesn't feel that he is taken seriously and calls the Anvil, a personal injury lawyer.
---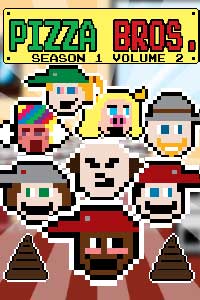 This Chapter is Part of Volume 2
---
Creator and Artist Notes:
Inspiration
The inspiration for this Pizza Bros story comes from a billboard that we saw on on a road trip of a personal injury lawyer combined with a friend a work getting bit by a dog while on a delivery. Real life once again influences writing.
Difficulties
One of the difficulties illustrating this episode was ensuring that Dennis consistently had the dog bite marks and a bandage on the correct hand that the dog bit him on. We overcame this issue by reviewing the illustrations several times. Getting a small artistic detail right makes all the difference in creating consistency.
Comedy Writing and Pixel Art Coming Together
We laughed so hard writing and illustrating this episode of Pizza Bros. We also write the characters and re read the lines in their voice through this process. So, Dennis getting bit by a dog and then mad that no one was taking him seriously was hilarious through this process.
Most Fun to Create
Dennis recalling the story of getting bit by the dog and remembering the tiny dog as being way bigger than it actually was, was the most fun to create.
---
Read More Pizza Bros Chapters