A Special Short Story featuring the Pizza Bros Characters!
The Founder is up to his usual crazy antics. Bored at a corporate meeting about emergency preparedness, he comes up with an "exciting" emergency plan of his own.
---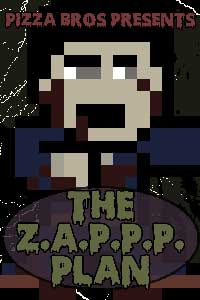 This Chapter is a Season 1 Special Feature
---
Creator and Artist Notes:
Inspiration
The idea for this special Pizza Bros comic just came to us. We thought how funny would it be if Steve, Ed, and Dennis thought that they were getting attacked by zombies?! And only The Founder would come up with a zany "zombie" and have events unfold the way they did.
Difficulties
The Z.A.P.P.P Plan really helped us grow as writers and as a pixel artist. Changing the filters to give it an "apocalypse" feel took some extra time and effort, but was well worth it to give this short story the right "feel."
Comedy Writing and Pixel Art Coming Together
Writing The Founder in his home at night and creating it using pixel art was interesting. It was about getting the right coloring for "night" time and then getting the lighting right when he went to use the bathroom.
Most Fun to Create
The American flag and the eagle "skree-ing" was so fun and funny to write and create. We wanted to give The Founder's speech to Brenda some dramatic flair. What better way than that!?
---
Read More Pizza Bros Chapters