A Special Short Story featuring the Pizza Bros Characters!
After an irritating day installing all The Z.A.P.P.P Plan requirements, an exhausted Ed, Steve, and Dennis have their worst fears come to life when they are attacked by zombies. But wait… I thought zombies weren't real, right?
---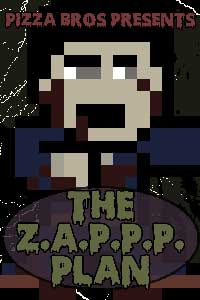 This Chapter is a Season 1 Special Feature
---
Creator and Artist Notes:
Inspiration
The inspiration for The Z.A.P.P.P Plan Part 3 was simply… what would happen if it was no longer fun and games and you really thought that zombies were attacking? We wanted to take a fun situation and have it turn serious real fast.
Difficulties
Making sure the pixel art scenes were consistent in the details was a difficult challenge for this part. I.E: Making sure Ed had all his cigarettes, that the zombies that were shot in the previous scene reflected that in the next zombie scene, etc.
Comedy Writing and Pixel Art Coming Together
The siren goes off to alert the guys of an impending zombie attack and none of them believe it's real… even though they want to believe zombies are real. Dennis going to the barricaded front door to look out the bunker window was hilarious for us to write and illustrate. We laughed so hard bringing this scene to life.
Most Fun to Create
Ed panic smoking 3 cigarettes on the Pizza Bros roof top was the most fun to create. It's a fun illustration detail that you have to pick up on while looking at the pixel art. Not only does Ed start chain smoking on the roof, he paces back and forth while smoking. Again, we laughed so hard creating this extra detail.
---
Read More Pizza Bros Chapters